Home
Welcome to the Piako Catchment
The Piako Catchment Forum (PCF) is a community group in the heart of Matamata Piako and Hauraki Plains.
The Forum is focused on the restoration of the Piako Catchment and its local communities.
We are interested in developing and maintaining open communication, networking and education which supports the restoration of our whole catchment and communities.
Piako News
The Seed Collectors Diary…
February to April is an exciting and busy time for native eco-sourced seed collectors. It is a veritable smorgasbord out there.
My small but merry band of seed collectors is focussed on the species that were once common in our local lowland forests but are now uncommon or rare. The reason for this is so that local nurseries can have the opportunity to grow these species to plant back into restoration projects. Thus helping make our projects to be as representative as possible of the majestic lowland forests that once clothed this fertile valley
Species that we collected in February were mataī, pokaka, aruhe (Coprosma areolata) hukihuki (Swamp coprosma or Coprosma tenuicaulis) and poataniwha (Melicope simplex).
An interesting fruit that you can see on the forest floor at Te Miro Waterworks Rd Reserve at the moment is the kōhia or NZ native   passionfruit. Sadly this is not tasty like the cultivated passionfruit. Kōhia is a climber and produces stunning tarzan like vines hanging from the canopy.
A species we were hoping to  collect around now is the mighty rimu. Rimu are very hard to find seed on in the forest because the foliage where the fruit hides is very high and out of reach so the birds eat it all. We have found that 'paddock stranded' rimu can be a great source of seed because their foliage is dense right down to grazing height. But the big challenge with collecting rimu seed is that rimu are a species that tend to fruit very heavily every few  years with little fruit in the intervening years. This is called  masting. Things were looking very promising a few weeks ago with lots of the tiny cones developing. However a recent progress check showed virtually none left. We don't know exactly what caused the cones to drop off prematurely. Fingers crossed for next year!
On a much brighter note, we made a surprising discovery beside the  Waitoa River of a fruiting specimen of rohutu (Neomyrtus pedunculata). This once common shrub is now rarely spotted in the  Waikato. It is a member of the Myrtle family along with iconic indigenous plants like pōhutukawa, rātā, swamp maire, manuka, kanuka but also exotics like the  eucalypts and the feijoa. With the arrival of the very damaging myrtle rust all our native myrtles are now considered to be threatened.
We were lucky enough to find two other smaller specimens of rohutu nearby and gathered fruit on three occasions over a couple of weeks as they ripened. The seeds have been sown and we must now wait to see if they germinate. If we are lucky enough to grow some plants we will prioritise establishing a small colony in our gully restoration so that we can more easily gather seed in future to be shared with local nurseries. This should greatly improve the chances of this species surviving in our region.
- Our Seed Collector - Jude Tisdall
DoC resources are available at: https://www.doc.govt.nz/get-involved/run-a-project/restoration-advice/native-plant-restoration/
Neomyrtus pedunculata photos care of nzcpn.org.nz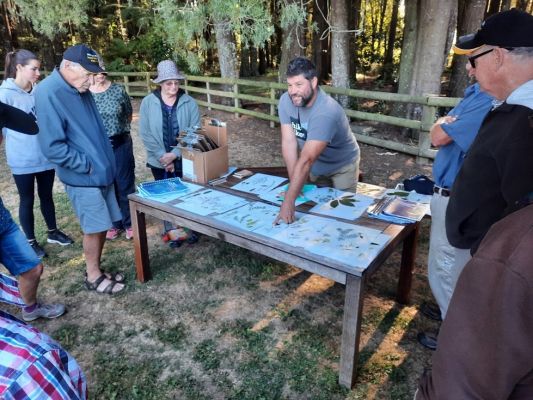 Training citizen scientists to preserve the Piako's floodplain forest gems
On Saturday the 16th of February, 18 budding  citizen scientist volunteers attended a training workshop on kahikatea forest health assessment led by Dr. Norm Mason at Hawes Bush Waharoa. The Waikato Regional Council has developed the "Kahikatea Green Wheel" tool to support landowners and community groups in monitoring the health of kahikatea forest ecosystems, but as this tool has not been officially released, it is not being used widely yet. The training day was    intended to increase community capacity for forest health assessment by promoting the green wheel and training citizen scientists to use it.  
Kahikatea forest in the Piako occupies ~1% of its prehuman area. Most kahikatea remnants occur on private land. Their survival is threatened by weeds, pests, and canopy collapse due to their small size (almost all remnants cover less than two hectares each). Protecting kahikatea forests is a priority under the Waikato Regional Council's Regional Policy Statement section 11.1 "Maintain or   enhance indigenous biodiversity"; especially for "…indigenous vegetation or habitat type that is under-represented (20% or less of its known or likely original extent remaining)..."
Kahikatea forest remnants comprise a major component of remaining native lowland habitat in the Piako, provide nuclei of existing habitat for future landscape-scale restoration and are a reservoir of genetic diversity for eco-sourcing seeds of native plants. These forests support a range of iconic native animal species, including the nationally critical long-tailed bat, overwintering kākā and kereru, tui, fantails, grey warblers, kingfishers and shining cuckoo. They also provide multiple benefits for aquatic ecosystems. Shade reduces river temperatures and invasive aquatic plants while bank stabilisation by tree roots reduces sediment loading, which protects the sandy stream beds required by native freshwater mussels (kākahi) and native aquatic insects.
Despite the importance of kahikatea forests, there is a real lack of on-the-ground support for  landowners to protect them. The Piako Catchment Forum hopes to increase community support for landowners in protecting and enhancing their kahikatea forests.
The first step in this process is to conduct baseline forest health assessments to support the development of management plans for as many of the kahikatea forest remnants in the Piako as    possible. Training days like the one held on Saturday at Hawes Bush are vital for growing the pool of   citizen scientists, without whom these baseline forest health assessments will probably never happen.
Most aspects of the tool are straightforward. The big stumbling block is the need for high levels of plant  identification knowledge to produce plant species lists for each remnant. Since this expertise appears to be thin on the ground in the rural areas of the Waikato, we trialled a scenario where teams of 2-3 people with some plant knowledge compiled plant species lists with the help of a consulting botanist (i.e. Norm). Most indicators based on plant identification did not vary much across teams, suggesting that this will be a good option for completing a large number of green wheel assessments to a consistent standard.
Once the baseline assessments are done, the plan is to sit down with willing landowners to develop restoration plans for individual forest remnants.  Having these plans in place will be huge help for landowners when applying for funding – either separately or as a collective - to fix fences, kill weeds and pests, or buy native seedlings for restoration planting.
If you are interested in attending future training days, or have a kahikatea forest on your land and want more information on how to protect it, please don't hesitate to get in touch with Norm: e-mail: masonn@landcareresearch.co.nz or phone: 021 153 5031 
January 2021
Motumaoho School—a PCF and Enviroschools journey
PCF volunteers Te Aroha Drummond and Ruairi Kelly recently met with staff of Motumaoho School, located between Morrinsville and Hamilton.
The Enviroschools programme has been developed for 20 years and now has over 1400 schools and Early Childhood centres, supported by their local district and regional councils. The programme uses an 'Action Learning Cycle' to help structure and support action-based learning.
Motumaoho have been 'Identifying the current situation', taking stock of what is important to students and community -which was to use the whole school as a learning environment. Students wanted to know about the health of the stream at the bottom of the 'wild' gully, so working with Ruairi they assessed the health using equipment and educational resources from Waikato regional Council's programme 'Rivers-and-us'. Whilst doing a habitat assessment they discovered that there had been previous planting, that Waikato Regional Council has supported, but more could be done.
Next they asked Ruairi to help identify the native species in the gully and help identify the invasive species. Working with the PCF for the past two years, Ruairi knew there were community members who were in a much better position to help.
First the common nasties Tradescantia, Japanese Honeysuckle and Privet were identified. The next step of the Enviroschools Action learning Cycle is 'Explore Alternatives', so the students could investigate and balance the options of the Tradescantia being sprayed, pulled up or introducing a bio agent of beetles.
It was clear that this was to be a long-term project and so a phased mixed approach was discussed, with students, parents & community focussing on the upper section before working down the slope to the stream edge.
What was clear was many of the WRC planted native species had done well and were producing seed. Te Aroha shared her expertise in how the many pittosporums transfer seed by them sticking to the legs of the birds and was also able to show the difference between 'Mountain Flax' and by the seed pods facing down rather than up like the Harakeke. There are opportunities for the students to use the area and develop their learning along with restoring the gully. Seeds could be gathered and grown on to repopulate the gully or offered to local landowners for riparian planting. There may be an opportunity to see if the large trees in the area are home to bats, meaning the school could be kaitiaki for them and develop predator traps to help them.
Ruairi also suggested that the school could link up with other PCF activities - such as the Morrinsville River Walk, local organisations – like Weedbusters or schools that have undertaken gully restoration.
Next step is to bring all the ideas together with the students and develop a plan and only then…. to take action!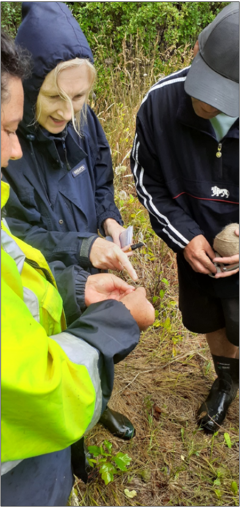 January 2021
Social housing for bats!
After recent publicity around the rediscovery of endangered long-tailed bats in Morrinsville, volunteers at the local MenzShed were keen to find a way to give them a helping hand. Bill Mace decided that he could apply his handyman skills to some surplus timber he had lying around to build bat roosting boxes.
In heavily deforested areas, such as the Hauraki Plains, bats may struggle to find suitable roost sites. Also, possums and rats often compete with bats for the few roost sites that are available. Providing artificial roost sites is a key component in increasing bat numbers in areas with little remaining forest. The Morrinsville MenzShed is providing an admirable example in acting to promptly to solve this local housing crisis!
This is a great example of what can be achieved when volunteer groups within the community support each other. It should serve as good motivation for people doing great things in the community to share their stories. You never know who might be out there looking for a way to       contribute.
The MenzShed is currently fundraising for a bigger shed, having reached capacity in their present location. They are keen for  opportunities to apply their handy skills in   raising funds.
 You can contact Bill at wajvmace@gmail.com if you have a job that might be suitable for them.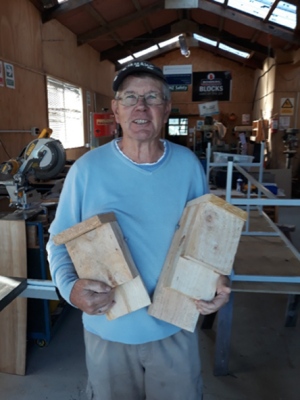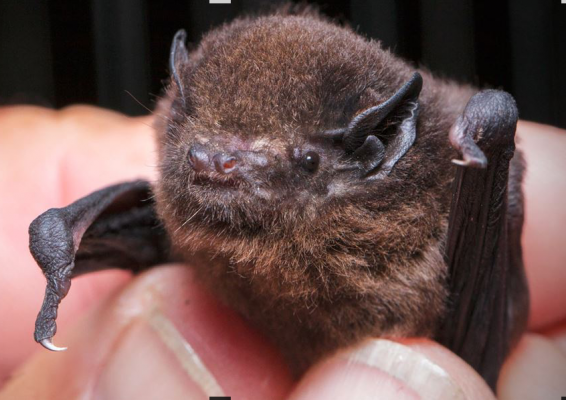 December 2020
Nationally threatened bat species discovered in Morrinsville!
Morrinsville might best be known for its cows – both the bovine and fiberglass types. However, surveys undertaken during COVID-19 lockdown have confirmed our town also hosts a precious piece of native biodiversity, the long-tailed bat (pekapeka whiore roa in Māori). As with the big community effort to clean up the river walk along the Waitakaruru stream, this discovery is an unexpected positive outcome from the Covid-19 lockdown.
Just before lockdown, Dr. Norman Mason (Morrinsville resident and ecologist at Manaaki Whenua -Landcare Research) borrowed five acoustic bat monitoring devices from the Waikato Regional  Council for a science project with Te Kura o Waharoa. These devices record echolocation calls bats make as they fly. With nowhere to go except public spaces within walking distance and  thousands of dollars' worth of monitoring equipment sitting idle, he decided to check whether there were any bats living in or around Morrinsville.
Tall forests next to waterways are considered prime bat habitat, by providing corridors for movement through the landscape and access to abundant food (flying insects). This is especially true in areas like Morrinsville where most of the native bush has been cleared. Since previous  generations in Morrinsville have either retained or planted big trees along our main waterways – the Piako River and Waitakaruru Stream - there was good reason to believe that's where bats would be found if still present.
But this was a pretty big "if". No bat surveys had been conducted in the Piako catchment (except at the base of Kopuatai Peat Dome) in the 20 years since Dr. Kerry Borkin (who is from Manawaru, and now works for the Department of Conservation) completed a Waikato-wide survey as a post-graduate student.  There was grave concern that local bat populations in the Piako might have died out during this time, since bats are vulnerable to predation and competition for roosting sites (holes in trees) from possums and ship rats.
Dr. Mason found bats are permanent Morrinsville residents rather than mere visitors. At least one potential roost tree has been identified and there are likely others in the wider Morrinsville area. With the help of two other volunteers (Aimee O'Sullivan and Teresa Simons), surveys are ongoing at six sites in or around Morrinsville to get an idea of how bat activity changes across seasons and in response to weather.
After the initial success of the Morrinsville surveys, and once lockdown restrictions lifted, he broadened the study to eventually span the majority of the Piako and Waitoa rivers, the Waitakaruru Stream and eastern tributaries of the Waikato River. Bat activity has been recorded at almost all sites, except in parts of central Morrinsville, north of the Kopuatai Peat Dome and the northernmost Waikato site.
"Although we know that bats are still present in Morrinsville and the broader Piako catchment, there's still a lot we don't know, including basic facts like the rough population size or trends in population size.
"Getting this information requires specialised expertise in catching and handling bats, as well as a lot of time and effort! The hope is that we will partner with bat experts in the near future to get more information on the health of our local bat populations."
In the meantime Dr. Mason is exploring options to involve the Morrinsville and broader Piako communities in giving our bats a helping hand. Two bat-focussed events are planned in the new year.
The first is for the landowners who generously provided access for surveys. This is intended as a "thank-you" for their support and as an opportunity to share practical ideas for keeping down rat and possum numbers.
The second event will be open to the community and focussed on beginning discussions on community-wide pest control efforts in Morrinsville. An off-shoot of the Predator Free Hamilton group has been set up in Cambridge, and this could provide a useful    example for Morrinsville residents to follow.
Anyone interested in finding out more about bats in the Piako can e-mail Dr. Mason: masonn@landcareresearch.co.nz          
Te Miro Pest Control Annual Footprint Monitoring 2020 Results
Awesome results for Te Miro Trappers annual footprint monitoring just in- ZERO RAT TRACKING!!
First time we have achieved this. Last year was 15%. The target for the general bird population is to achieve 5% or less.
In addition to this 10% (4) had insect tracks. This is a good sign as rats eat insects too.
25% (10) had mouse tracks but as these are a targeted species still good news.
Results of great team work. Congratulations to the amazing volunteers that are walking these tracks each fortnight!!!!!!!