Projects in the Piako Catchment
Projects working out in the Piako Catchment
Connecting the Waitoa
In 2018, we initiated a project called "Connecting the Waitoa" alongside NZ Landcare Trust and Waikato Regional Council. The project seeks to reconnect the remaining lowland forest remnants and wetlands linked by the Waitoa River between Waharoa and Waitoa. Connecting the Waitoa is a collaboration between industry, landowners and councils.
Te Miro Pest Control Group
This group of volunteers operates in the MPDC reserve officially known as the Waterworks Road Reserve but commonly known as the Te Miro Mountain Bike Park. The Reserve is around 160 hectares and made up of a mix of native bush, exotic pine and redwood forest and weedy regenerating scrub. The lake, which is Morrinsville's town water supply, is formed by a dam over the Topehaehae Stream which joins the Piako River near Morrinsville.
The group started laying out tracking tunnels and a pilot area of trap lines in the winter of 2018 with trapping getting underway in August 2018. The trapped area was extended gradually to cover almost the whole of the Reserve. Traps are laid out on a 75 x 75m grid, with lines running east-west. A mixture of traps types with various lures are used, targeting rats, possums and mustelids. For most of the year the traps are cleared and re-set every two weeks. Volunteers work independently to suit their schedules.
Data is entered into the trap.nz database, where it can be searched for under the name Te Miro Pest Control Project. Moderate fitness and confidence in the bush is required as  volunteers are mostly using purpose marked trap trails to navigate alone. Most but not all lines have a steep section or two. Training and a safety briefing are given to all volunteers who join the group.
The project has been funded by MPDC and by volunteers providing their time and recycled materials to build tunnels and boxes. Waikato Regional Council has provided technical assistance with the set up.
Users of the Reserve have reported an increase in birds and decrease in rat and possum sightings.
If you are interested in becoming involved in predator pest control work at the Te Miro Mountain Bike Park on Waterworks Rd then please contact Jude Tisdall or Warren Smith, the coordinators.
We are also very keen to promote and assist with the setting up of additional pest control projects around the Matamata Piako District so please feel free to contact Jude if you have any ideas.
Jude Tisdall
mob 021 947 815
jude.s.tisdall@gmail.com
Keep New Zealand Beautiful Annual Clean Up Week
Keep New Zealand Beautiful Clean Up Week is an annual clean up event between Keep Morrinsville Beautiful and the Piako Catchment Forum.
Each September we work together to pick up rubbish throughout the Morrinsville township. Whilst we clean our home we also work together building relationships and connection to each other and our town.
For more information on Clean Up events contact Piako Catchment Forum
Friends of Hawes Bush
Hawes Bush is a Reserve situated in the heart of Waharoa near Matamata. This is 2.2 Ha area with a large stand of mature Kahikatea. The local community is working together to improve the mana of this area, including weeding and planting. 
This is an informal group of about 6 - 8 regulars who are undertaking weeding and planting within this precious lowland kahikatea forest fragment. They are making great progress but there is still plenty of work to do aimed primarily at the re-establishment of the natural understory as close as is practical to what it would have been in pre human times. In the future they hope to help bring about the construction of a good quality loop track through the Bush.
The project is part of a bigger Piako Catchment Forum project called Connecting the Waitoa. This aims to restore and connect lowland forest fragments along the Waitoa River between Waharoa and Waitoa villages.
This group would like to get onto a regular 4 weekly session on a Friday morning. The first Friday session will be on 2 October. We will start at 9am and be there till 12pm. People can suit themselves how long they come for though. Any help is most welcome.
It would be great to hear from anyone who might be interested in being involved. Hawes Bush is a lovely place to spend a bit of time chasing down weeds. The site is flat and easily accessible. There are a range of different species and sizes of weeds to suit different preferences.
For more information about this project or to get involved please contact Jude on 021947815 or email her at jude.s.tisdall@gmail.com
Weedbusters
With the guidance and orgainsation of Jude and Ron a team of volunteers get together each month to weed out pest and invasive species in native remnants within our catchment and neighbouring areas. 
For more information of weedbusters check out the weedbuster website: https://www.weedbusters.org.nz/
Or contact Jude on 021 947 815 or email jude.s.tisdall@gmail.com
Morrinsville Allen St Gully
Allen Street Gully is a planting project in the heart of Morrinsville Township. This is a high traffic area for both local and through traffic situated on the Morrinsville by pass. This planting has been undertaken by a small group of highly motivated Morrinsville vollenteers. Planting began in 2018 with a second year of planting in 2019. With a wide range of eco-sourced natives this will provide long term soil stability along with habitat for bird and insect life. This site has proven to be a difficult site due to terrain, historic rubbish and other factors. Projects like this take serious commitment and maintance over serveral years, including weeding and ideally pest control. However, projects like this provide postive outcomes for the community and environment for decades to come.
For more information about this project or support to start your own please contact the Piako Catchment Forum.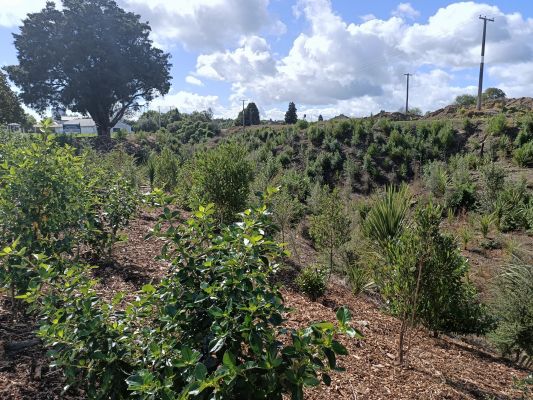 Unlocking Curious Minds - Te Kura o Waharoa
The Piako Catchment Forum, in partnership with Manaaki Whenua-Landcare Research and Te Kura o Waharoa, has obtained funding through the Ministry for Business Innovation and Employment "Unlocking Curious Minds" to equip the tamariki of Waharoa with environmental science and ecosystem management techniques enabling them to act as kaitiaki of their ngahere.
Waharoa  and its environs are home to some of the finest kahikatea forest remnants on the Hauraki plains. The long-term preservation of these taonga ngahere depends on the tamariki of Waharoa re-engaging with their local environment. Our project uses environmental science as a vehicle to restore whakapapa connections between Te Kura o Waharoa tamariki and their local forest ecosystems.
The project has three main science components:
- Student-designed resources for native and weed plant species identification
- Collection, establishment, and monitoring of biocontrol agents for a major forest weed
- Surveys for the presence of native long-tailed bats (pekapeka) in forest remnants near Waharoa.
Ultimately we hope to empower the tamariki as champions for kaitiakitanga in Waharoa and the broader Piako catchment by providing them with the tools they need to a) manage their forest ecosystems and native species. And b) communicate their knowledge to their peers, whanau and the wider community. 
For more information about this mahi please email Norm at kaurigiant@gmail.com